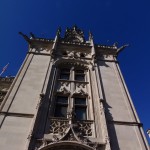 Mama and I traveled to Asheville, Friday, and met Adrianne, her family and in-laws at the Biltmore Estate! I wish I had tons of photos to share, but you are only allowed to use your camera outside the house.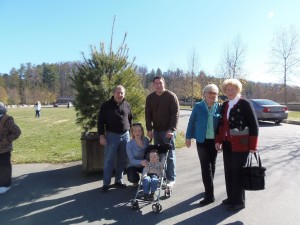 Cynthia, Adrianne's mother-in-law, and I traded out as photographer. What a lovely backdrop, eh?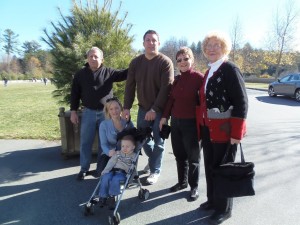 Peter James was an angel, despite the huge crowd that was there to see the house decked out for Christmas.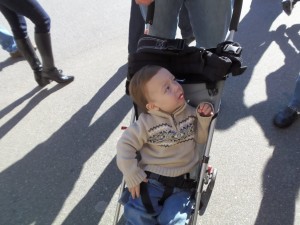 I finally did get a picture of Mama in front of the house, but I couldn't get her to quit counting her money. I think she was considering buying the place!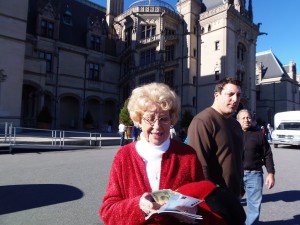 In addition to the amazing handcraftmanship found throughout the house itself, there were vintages dresses on display in the guest quarters. I would love to see the needlework on these gowns up close. Since there's no photography allowed inside the house, I'll have to scout around the web to see what I can find in the way of pictures.
This
article
from Victoriana Magazine is all I could find on the subject of dress at the Biltmore House. It included this photo, and the dress on the right was on display in one of the rooms. It was no where as grand as a couple of the ballgowns that were done in jet beads on lace. One of them also appeared to have silk roses embroidered in among the beads and lace. There was also a green velvet "reading gown" that looked like it had been made out of Scarlet's mama's draperies! Gorgeous!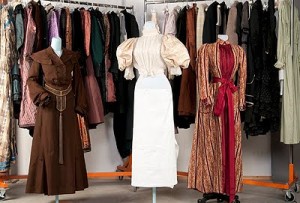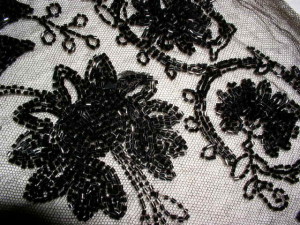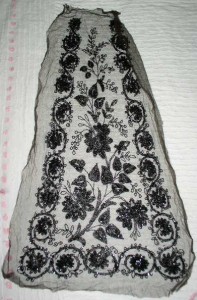 I was so insired by the ball gowns that I went to eBay and bid on this vintage beaded panel. I fell asleep before the bidding was over and lost by 25 cents. Oh well, this close up looks like it was done with bugle beads on tulle.