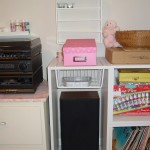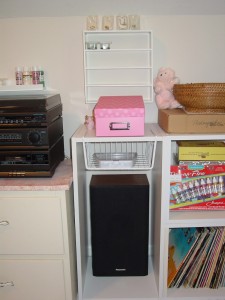 I got to the Container Store last week, and the undershelf baskets I bought there fit great. The one in this photo holds a box that once held nailpolish and manicure tools. It now holds beading needles.
The pink box holds beads and jewelry components. I hope to move them to clear containers where I can see them eventually.
The small white shelves were brown when I found them at an antique shop years ago. I bet I had them 5 years before I painted them white and mounted them on the wall. I got them after reading a tip about scouring antique and thrift shops for items that could be repurposed for craft storage. Because of the proximity of the stereo, I had used them to store cassette tapes. I found a better box for the tapes this week, and I hope to fill this one like it's partner: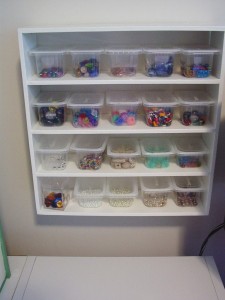 I assembled the double storage cube from Foremost, turned it on end and added it to a row of others. The brown cases on the bottom hold cross-stitch and crazy quilting supplies. The brown one on the right also held cassettes till I took the divider out of the bottom and lined it with felt. The pink cases on top hold
thread, seed beads and jewelry tools. I love that I can pick them up and head to the couch downstairs or out to the porch or anywhere I want!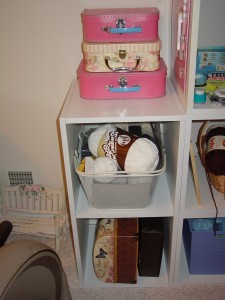 The little picture rail shelf below is from Ikea. I like it better than the ones from Michaels because it's more substantial, and it attached to the wall more securely. It was only $9.99, but doesn't come with hardware. I found 2 screws and an anchor all by myself. I used my studfinder (what a great tool!) and put one of the screws in a stud and used the anchor to secure the other end in the drywall. I'm getting pretty proficient with the drill, too! I plan on buying some more of these "Ribba" shelves, but of course, they're not available online. That means a trip out to Ikea (storage Disneyland) in Charlotte some time!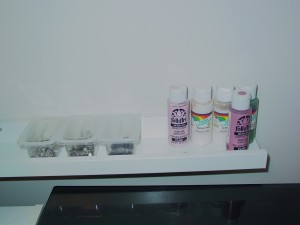 I'm not a very "pink" girl, but I've repurposed alot of furniture from my daughter's old room. This pretty music box is hers: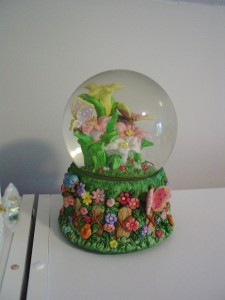 This sign, though, is all mine!