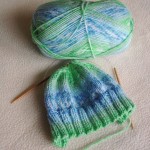 This one is called "I'm a Big Boy." I cast on in the middle of a swatch of green, and I'm afraid when I turn the band up, all the pretty blue will be hidden. Next time I'll cast on in a swatch of blue and see what happens.
Yes, I used circular needles, even though I'm not knitting in the round. I find the shorter length circulars are ideal for travel. If you drop a needle, it stays attached to the other one. Sometimes, I ball up my yarn and pop it, along with a set of circular needles and those tiny folding scissors, in a zip top sandwich bag. Then I pop it in my purse and I'm set to go. Whenever I'm stuck in a waiting room or other slow place, I can be productive and pass the time.
I do knit my baby caps in the round from time to time, but I'm not crazy about finishing with double pointed needles, especially when I'm travelling.