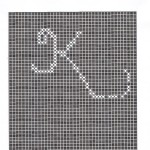 It's no secret that I've had the itch to cross-stitch lately. I've also always enjoyed charting my own designs. I know there're several software applications that will do that for you, now, but I don't know if I design enough to warrant their purchase.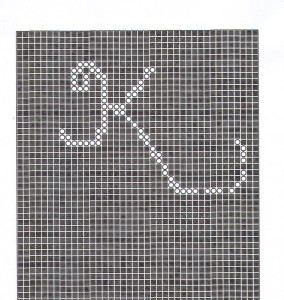 This cursive K was done with free software called "Pixel Hobby." The intent of the software is to design a chart for mini mosaics. You can download this software directly from their website,
http://www.pixelhobby-usa.com/
. It has two options: you can download/upload a photo to be "
pixellated
" or you can draw your own design using the mouse. I wrote this "K" on the
mousepad
of my laptop with my finger. After saving it and printing it, I scanned it so it should be in
JPEG
format, now. The software has a send to
JPEG
command, but I can't find out where it sends it, yet! If you are in need of a capital K to stitch for someone (Kimberly!) help yourself! Just right click on the graph and choose, "Print Picture," or "Save Picture As" to save it to your computer!