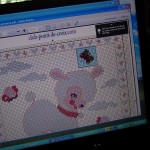 It's really pretty simple. If your chart is in pdf format, open it, and choose "edit." Under edit, choose "Take a Snapshot" The cursor should change to a "+." Left click it in the upper left corner of the area you wish to enlarge. Drag across that area and release the mouse. The area you wish to enlarge should be highlighted in blue. You may get a message window that says, "The selected area has been copied." Click on ,"OK."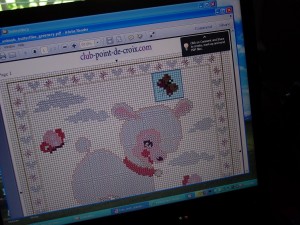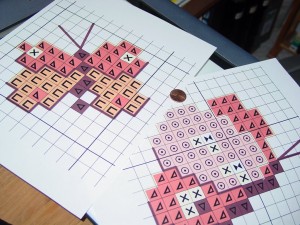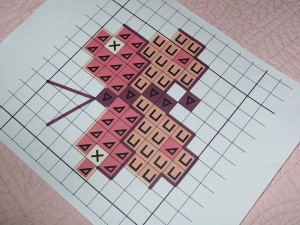 Now, choose, "Print," either the icon or the command under "File."
A new "Printer" window should appear with the highlighted area in the preview box on the right, enlarged to fit an 8,1/2″ by 11″
sheet of paper. If the preview is satisfactory, make sure your printer is ready and choose, "OK." Your enlarged portion of the chart should come shooting out of your printer shortly!
If your chart is not in pdf format you can change it online for free. Here's
one source
, but searching "pdf converter," should produce several. You might have to download the converter from Adobe, but that's free and easy and usually safe.
The chart pictured here is, "Cute Lamb" from the Cross-stitchers Club.