Once upon a time, I don't know how long ago, I found, and I don't remember where, some beads that reminded me of Easter eggs and jelly beans. So, I made a bracelet: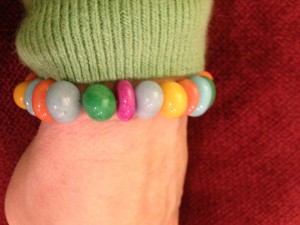 I think the beads are dyed agate. They are simply strung on clear stretchy cord, and the knot secured with clear nail polish.
I dug it out, yesterday, and wore it with an aqua top. I wasn't going anywhere special, just to pick up groceries and a pizza, but it just made me happy to wear it!