This brownie is the best one I've ever eaten! It is fudgy and moist inside with that paper-thin crispy crust that is a perfect contrast: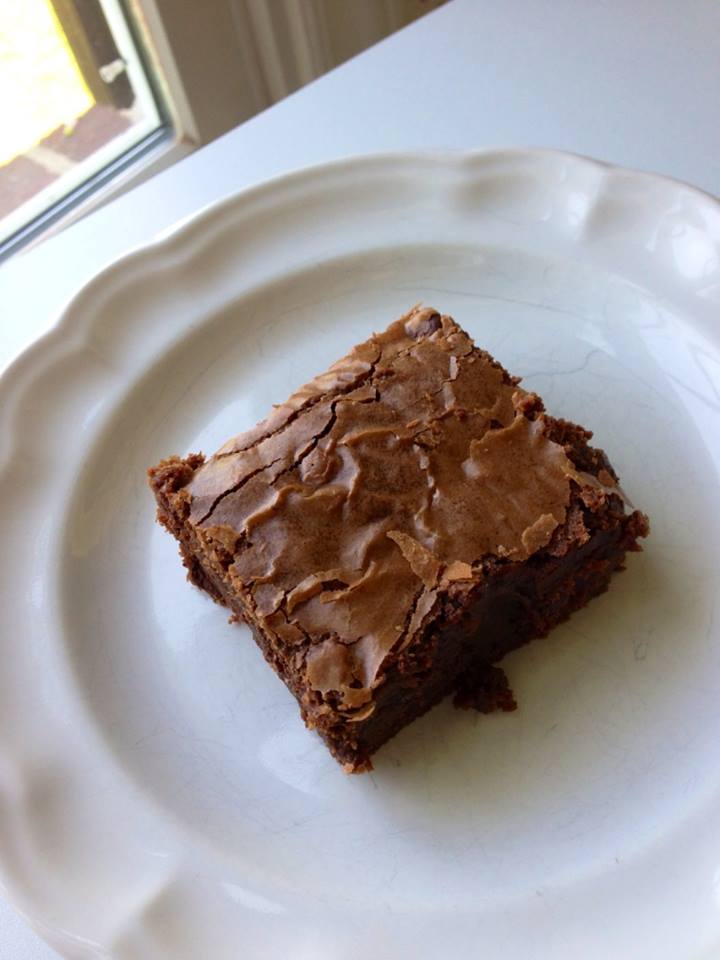 Sunday night, I came across this recipe on Pinterest: https://www.pinterest.com/pin/326088829243672432/ After following it to it's source, I made for the refrigerator. I only had one egg. Bummer.
Monday, without being told, my husband came home from the store with a dozen eggs! I went right to work. I set three eggs out to come to room temperature, and printed up the recipe. I was sure I had everything else I needed. I started gathering the other ingredients. I got out our jar of Nutella, and it felt awfully light. The recipe calls for 1/2 cup. I peeked inside. Uh oh. About 1/4 cup was left. But I was jonesin' for some brownies! What to do?
I had some almond butter, Barney Butter to be exact. I got a measuring cup and scooped out all the Nutella I could. I finished up the 1/2 cup with almond butter. Despite calling for a cup and a half of chocolate chips, I was afraid it wasn't going to be chocolatey enough with the almond butter, so I added a level tablespoon of cocoa in with the flour. I don't know if it helped or not, but it sure didn't hurt. Neither did the 1/2 teaspoon of vanilla extract I added to the wet ingredients. I changed the instructions to make them even easier. Here's my version:
Not Enough Nutella Add Almond Butter Brownies:
Ingredients:
1/2 cups semi-sweet chocolate chips, divided
I/4 cup Nutella chocolate hazelnut spread
1/4 cup smooth almond butter
I stick salted butter (save wrapper)
1 cup sugar
1/2 teaspoon vanilla extract
2 large eggs + 1 egg yolk, at room temperature
1 cup all purpose flour, unpacked
1 level teaspoon cocoa powder
Instructions: Preheat oven to 350 degrees (F.)
In a large, dry, microwave safe mixing bowl, mix the stick of butter, sliced, and 1/2 cup of the chocolate chips. This part is very important: Microwave in 30 second increments, stirring after each to melt the chocolate and butter. (It usually takes 3-4 30 second increments. If you try to do it all at once, the chocolate will burn.) Stir in Nutella, almond butter, and vanilla. Add sugar and stir well. Set aside to cool slightly.
Carefully crack one of the eggs into a separate bowl. Use one half of egg shell to dip in and remove the yolk. Add to chocolate mixture. (This part made me nervous. Next time I might temper the eggs before I add them [stir some of the warm mixture into eggs to change their temperature so they won't scramble!]) Crack and add the two other eggs. (Discard or save the extra egg white in the fridge for breakfast.)
Add flour and cocoa, stirring gently to combine. Do not beat. Fold in remaining cup of chocolate chips. (Here's another goof I made, and probably do again. I added some of the flour, set the rest down and forgot about it. Then I added the chocolate chips. The mixture was still warm and the chips melted some, turning into little globs of chocolate. Then, I spotted the rest of the flour, and added it last.)
Use the saved butter wrapper to grease an 8×8″ baking dish. Spoon in batter and bake 25-30 minutes.
Remove to a cooling rack and try to resist for 30 minutes. The bars will not cut before that, but if you can't wait, use a spoon and be careful not to burn your mouth!
The original recipe called for topping the brownies with extra Nutella and chopped pistachios. I had neither, but the brownies didn't need anything else. Truly, but a scoop of vanilla ice cream didn't hurt one bit!