I finally got around to turning one of Mama's blue canning jars into a light. I've had the kit for about 2 years. You have to use a really low wattage bulb, 11 or lower. This is a 3W flicker bulb. I guess it'll just have to be decorative instead of functional.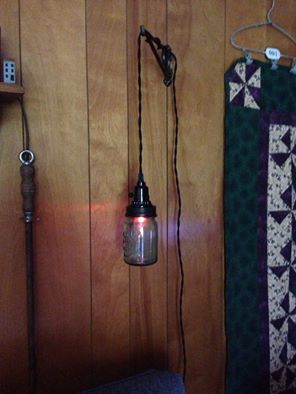 The lamp kit is from Factory Direct Crafts and they still have them, as of this post.
I also hunted around for a reproduction Edison bulb. I found one at Country Roads Emporium in Jonesville, NC, though they have them at Lowes, now. It was too fat to go through the mouth of the jar! I looked to see if Mama had any wide mouth jars, but decided that was stupid because then the lamp kit wouldn't work! I do amuse myself! The Edison bulbs I found were all too high wattage, anyway. The kit warns that bulbs burning in the jar create a lot of heat.
I hung the hook myself, too! I found it on Amazon.