Back on May 6, my friend, Laura Sheaffer, and I attended the Western North Carolina Quilt Guild Show in Flat Rock, NC. It was held at Bonclarken Conference Center  where we also attended the NC Quilt Symposium in 2015. The following photographs are of quilts I admired, there. NONE OF THESE ARE MY WORK. The quilter will be identified.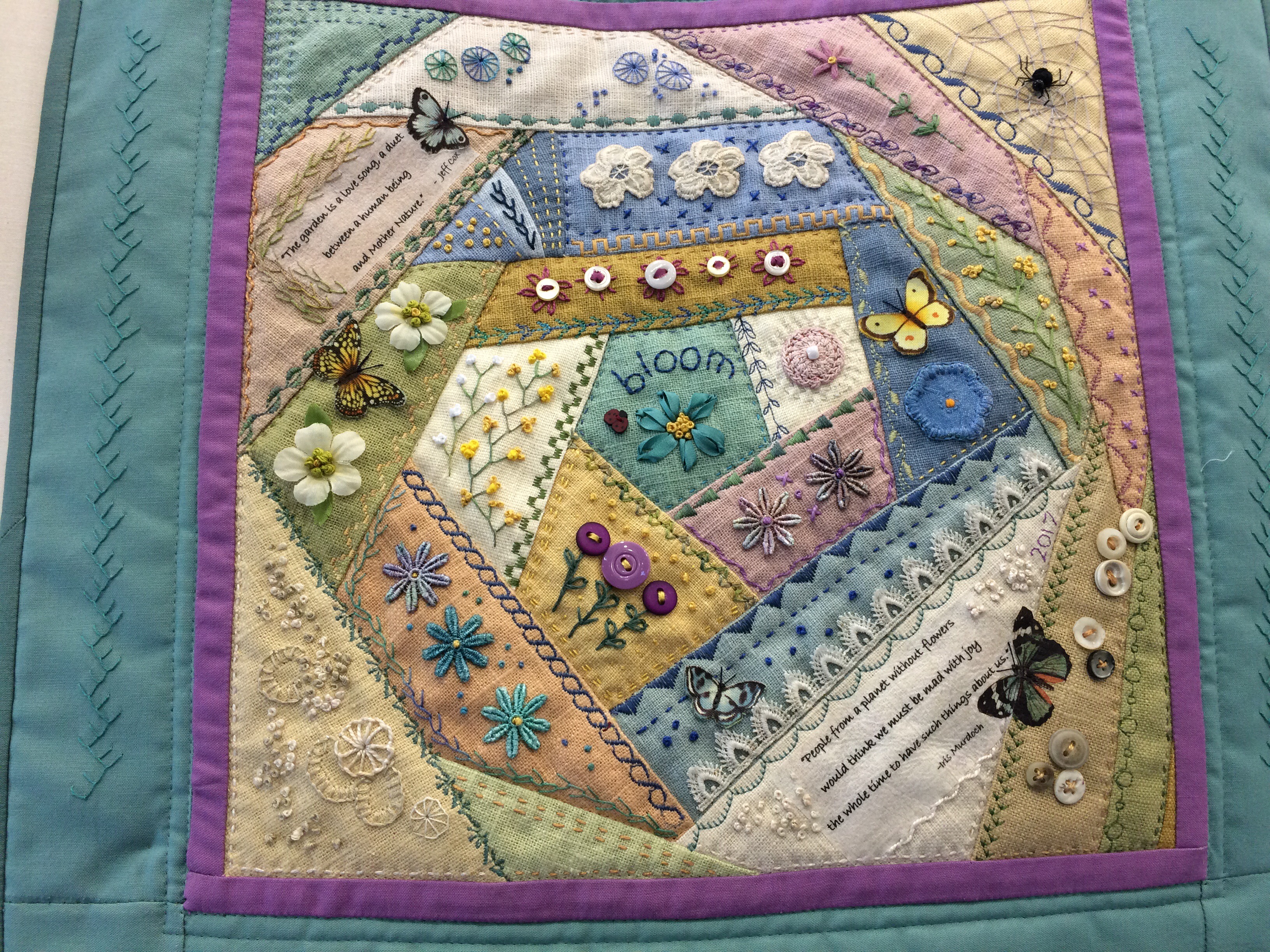 This is the first one that took my breath.Its's no secret that I love crazy quilts.I love that this one is just one block, beautifully embellished! i love the quotes ,buttons, and butterflies! It is called Bloom, and the creator is Barbara Ruff.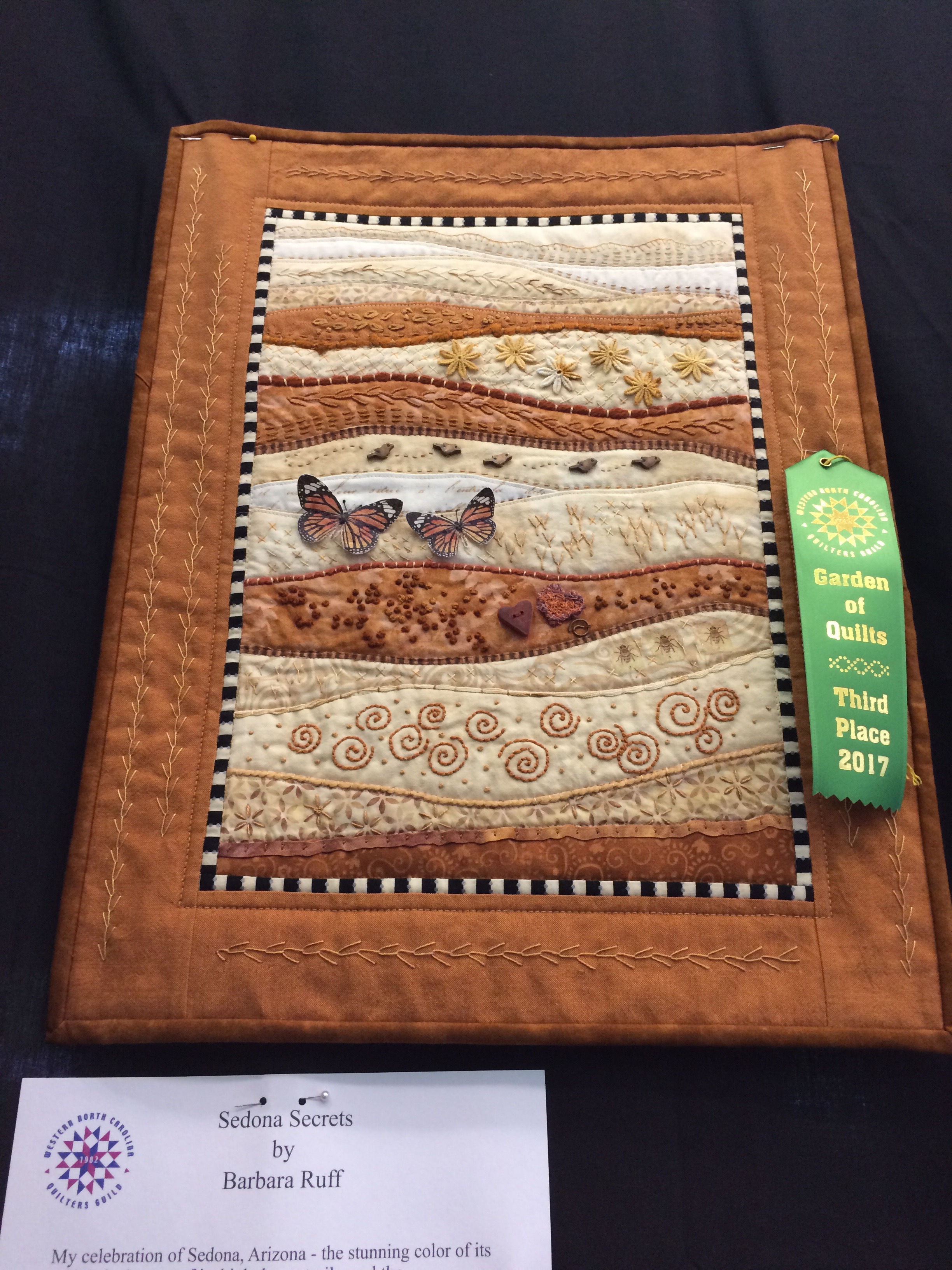 This is another by Barbara Ruff. Again, I love the handwork and embellishments. I like the linear layering and how the black and white inner border mimics the monarch's wings. I love that it celebrates a place. (Mountain and seashore ideas!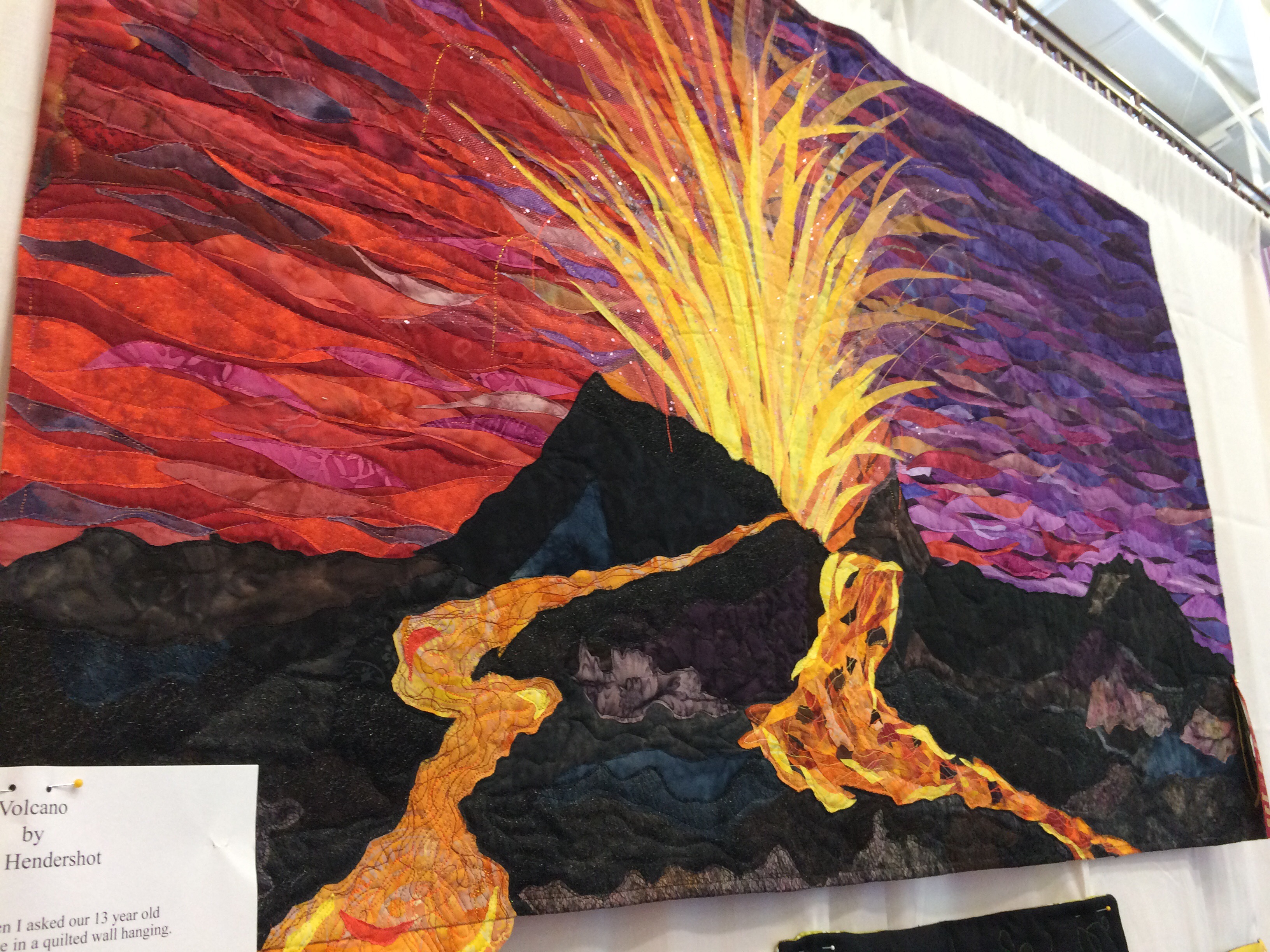 I love this one because, well, it's a volcano! It's by Trish Hendershot and looks like it was done with Cynthia England's picture piecing method. I just barely caught the way the lava pours off the edge! Awesome!!!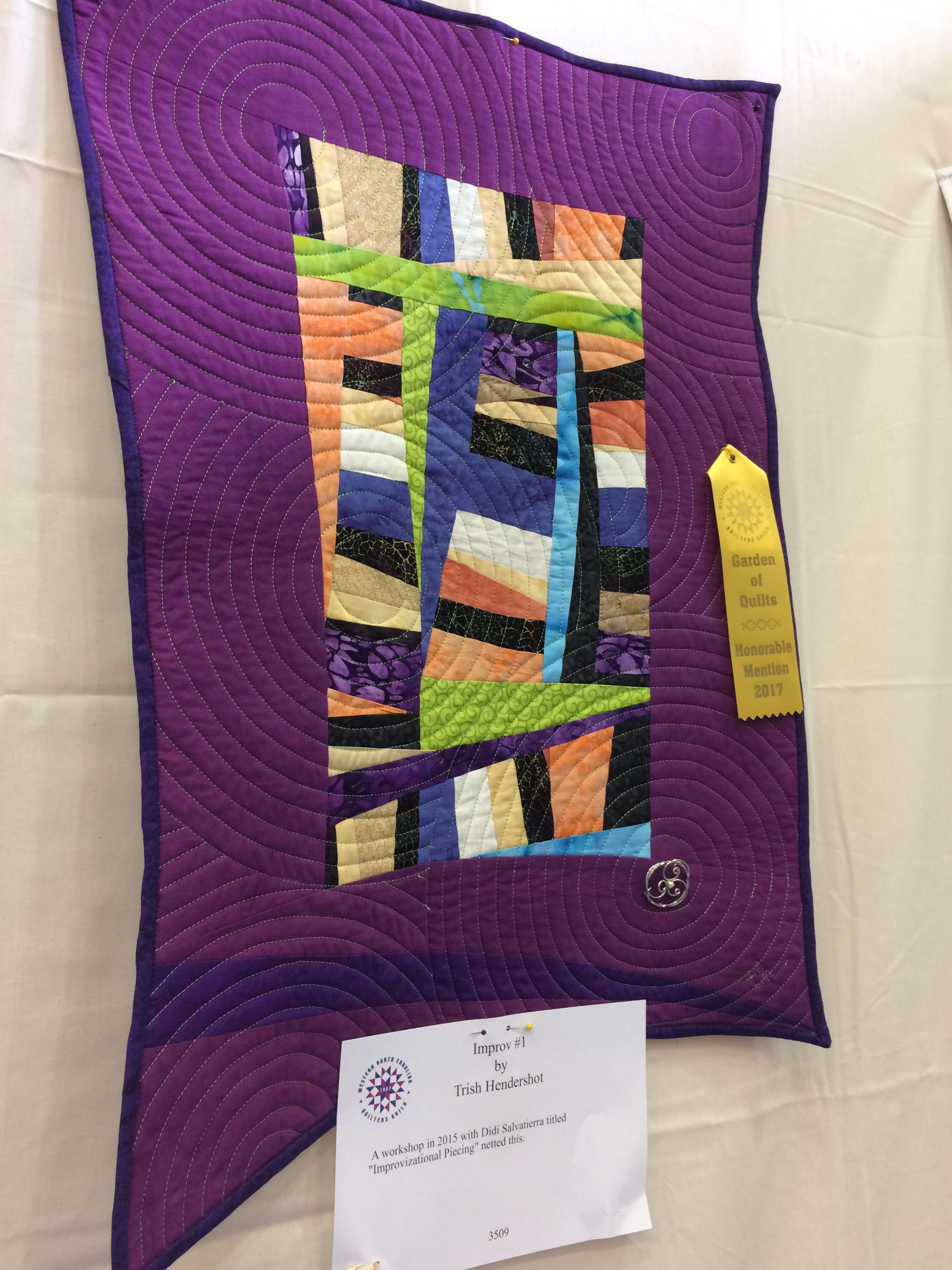 Here's another one by Trish Hendershot (How cool to be Ms. Hendershot from Hendersonville) I love the wonkyness of the piecing and the asymmetrical edge. I like the wire embellishment, too. It looks like she did this quilt in a workshop by Didi Salvatierra, who took first place in the category. Her entry is below: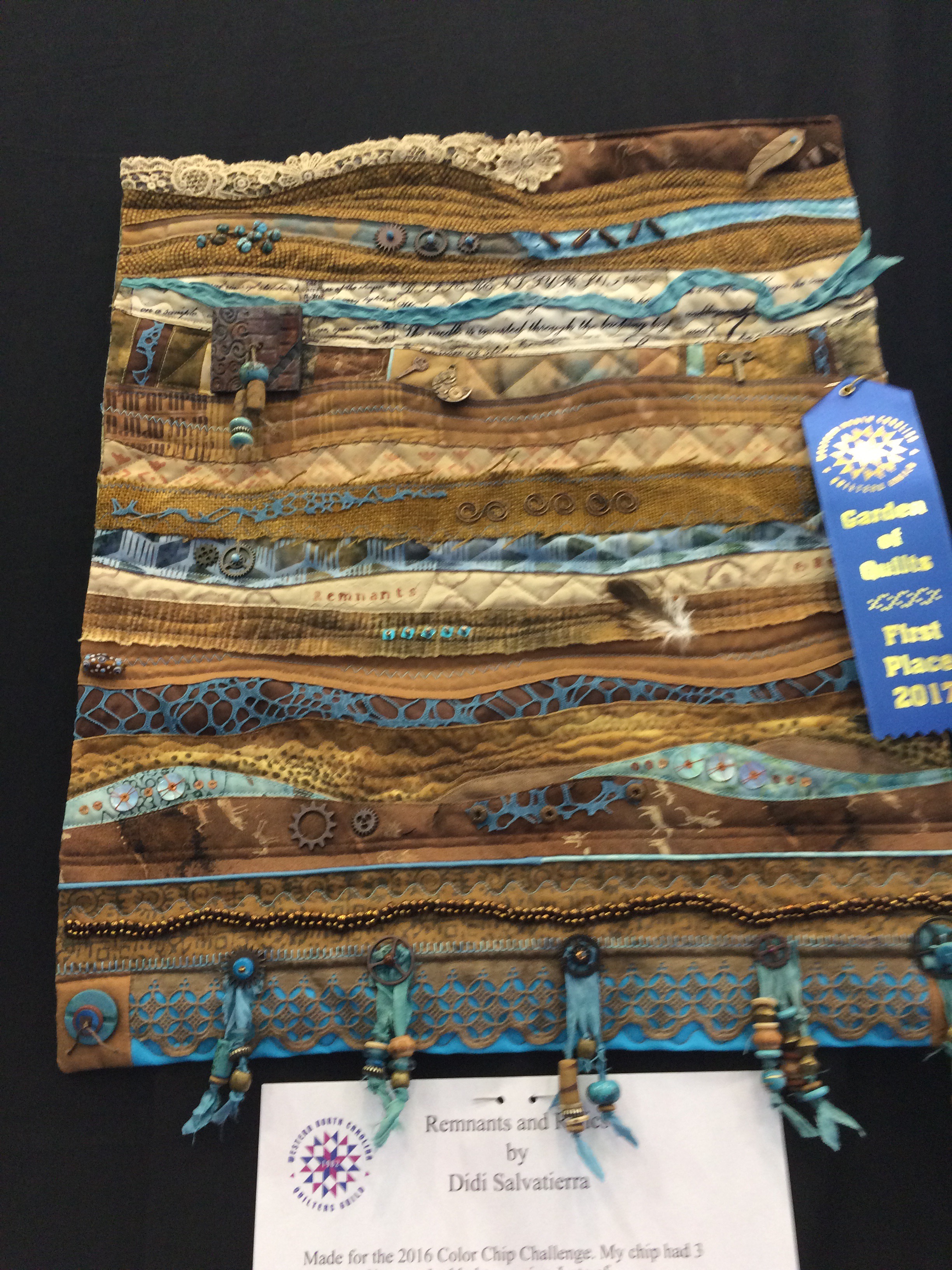 Once again, I love the lace and embellishments! This one has a feather! The edge is either pillow cased or faced. (I hate binding!) This one is called, "Remnants and Relics."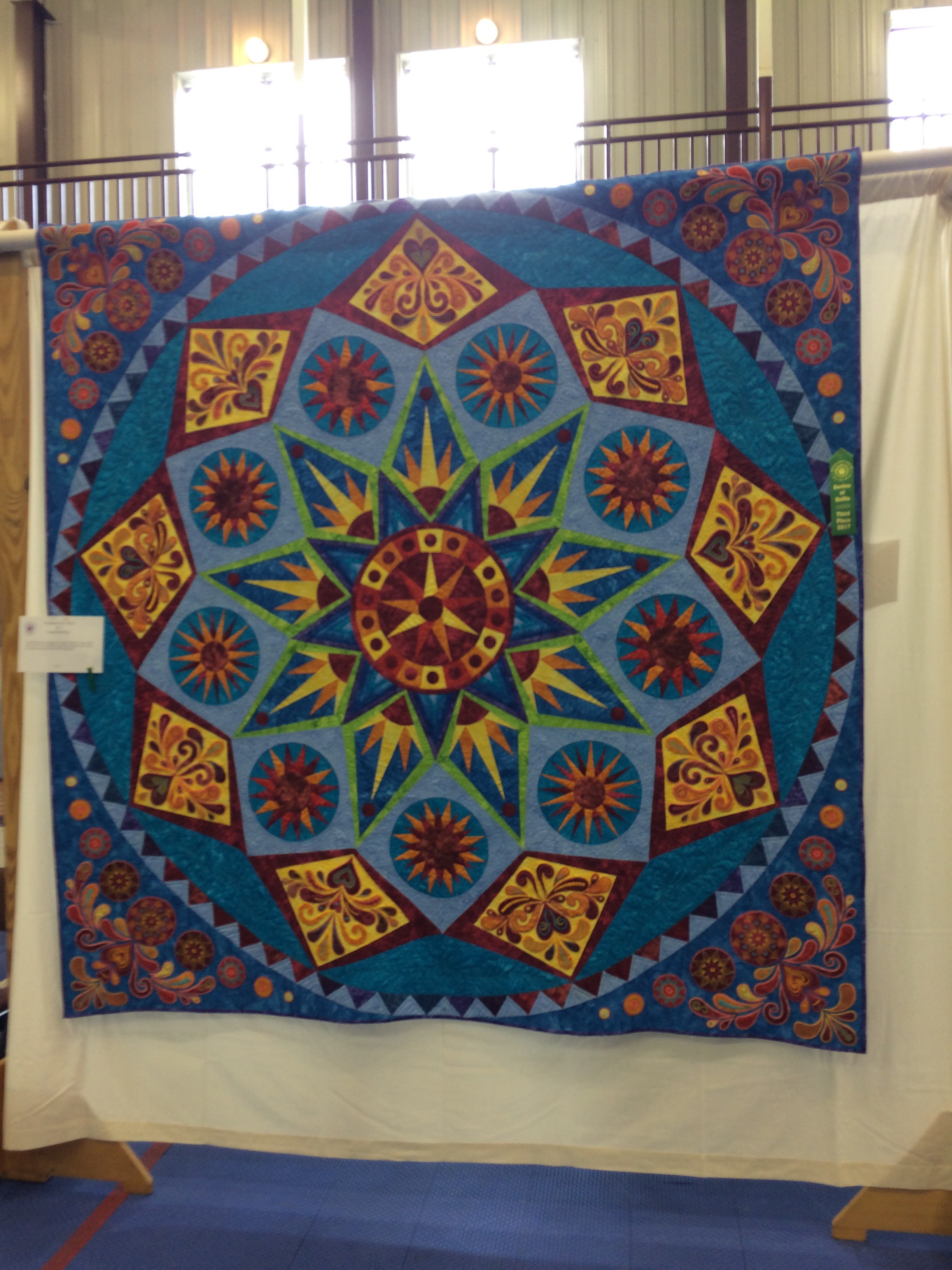 This one was absolutely stunning, and beyond anything I could ever achieve. It's called, "Symphony of Colors," by Natalie Rockley (another great name!) I prefer quilts done by mere mortals, but I couldn't leave it out! It's paper-pieced and has embroidered applique. Did I say, "Wow?"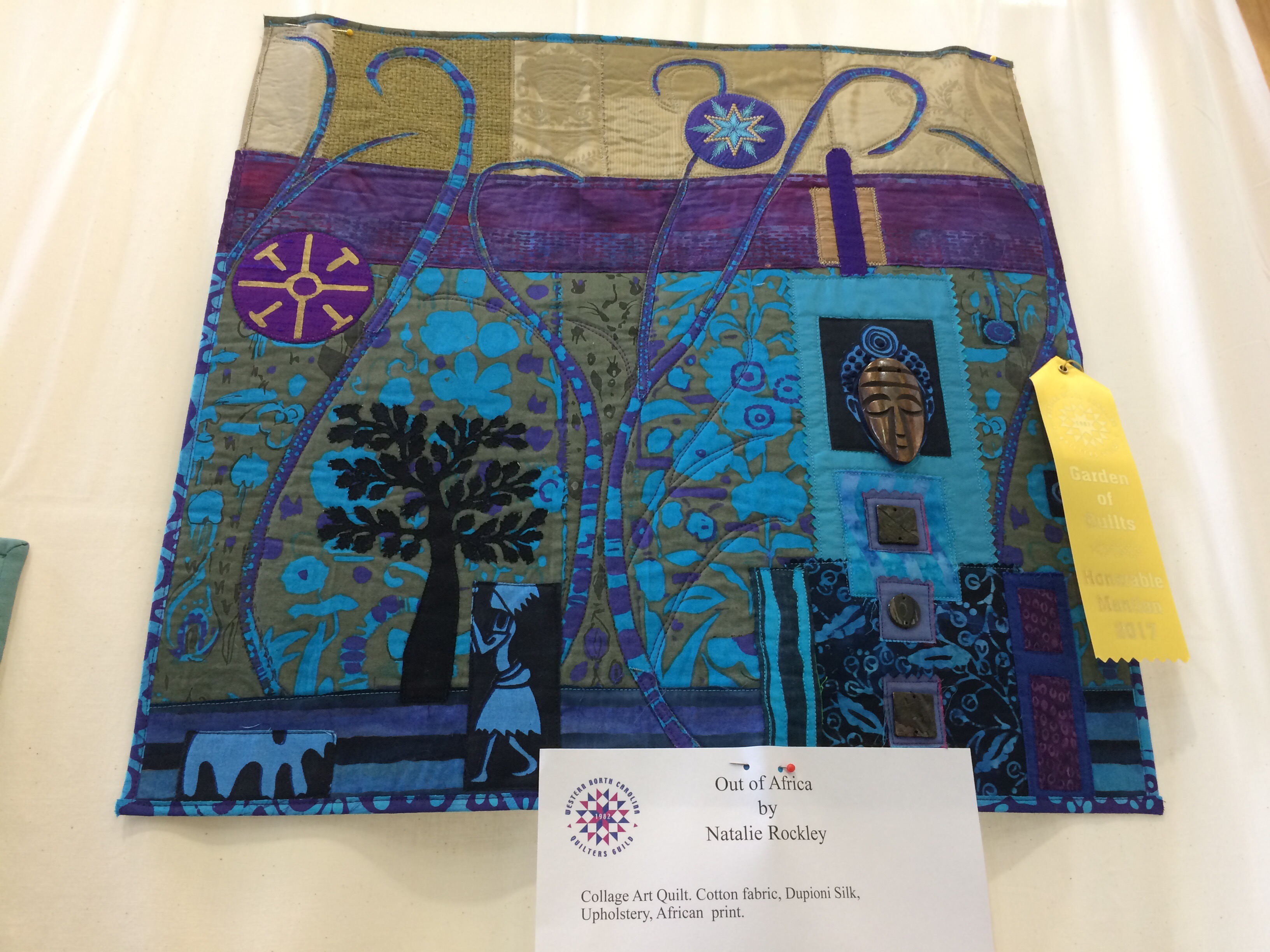 This is a smaller stunner by the same artist. Amazing! Note the African mask button and the tree silhouette!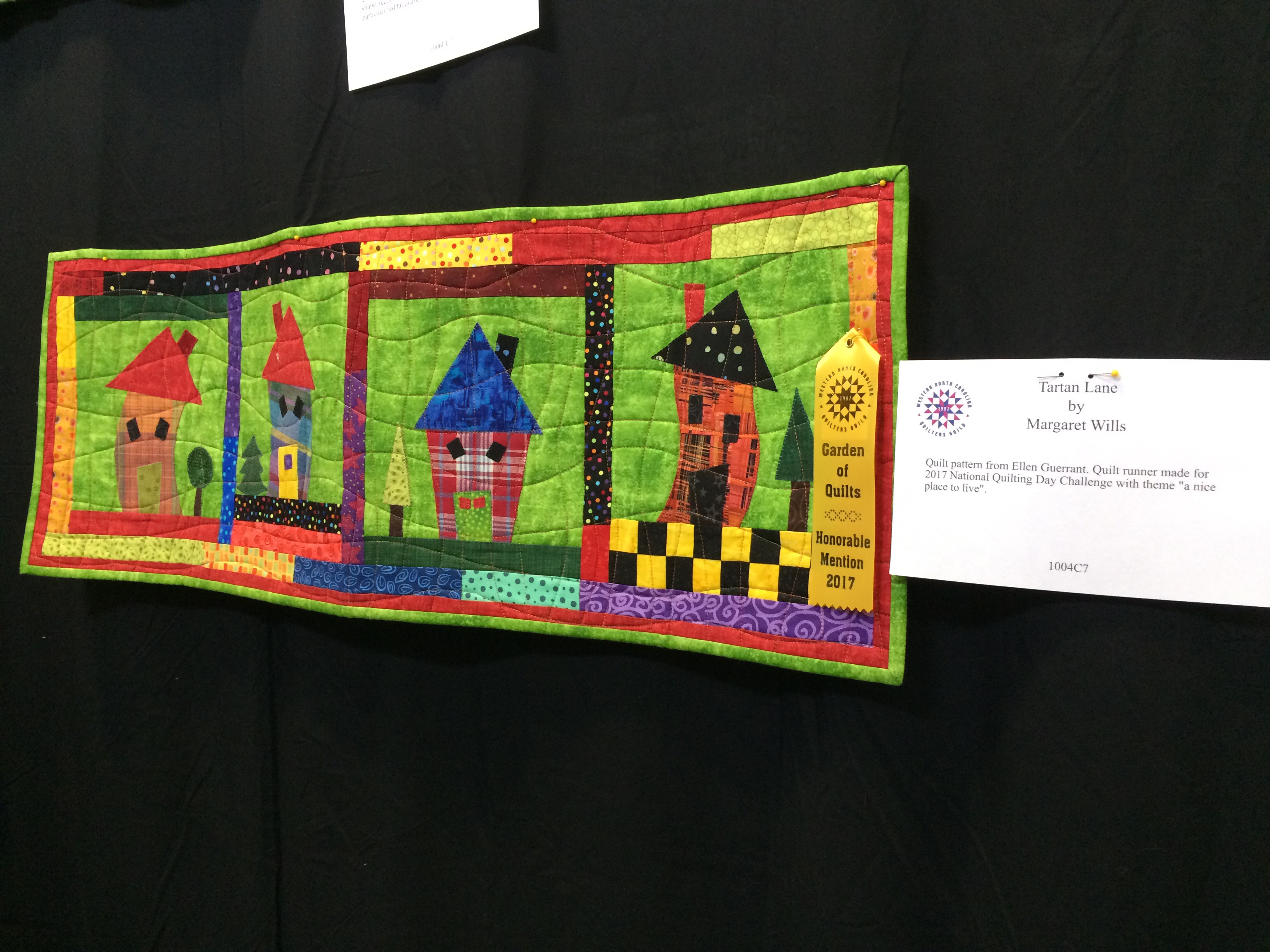 I was tickled pink to find a ribbon on this one! The quilter is Margaret Wills, but the pattern is by my friend, Ellen Guerrant! I have that pattern. It's called, "Happy Houses," and I have one picked out, along with the fabric, for a mini-quilt.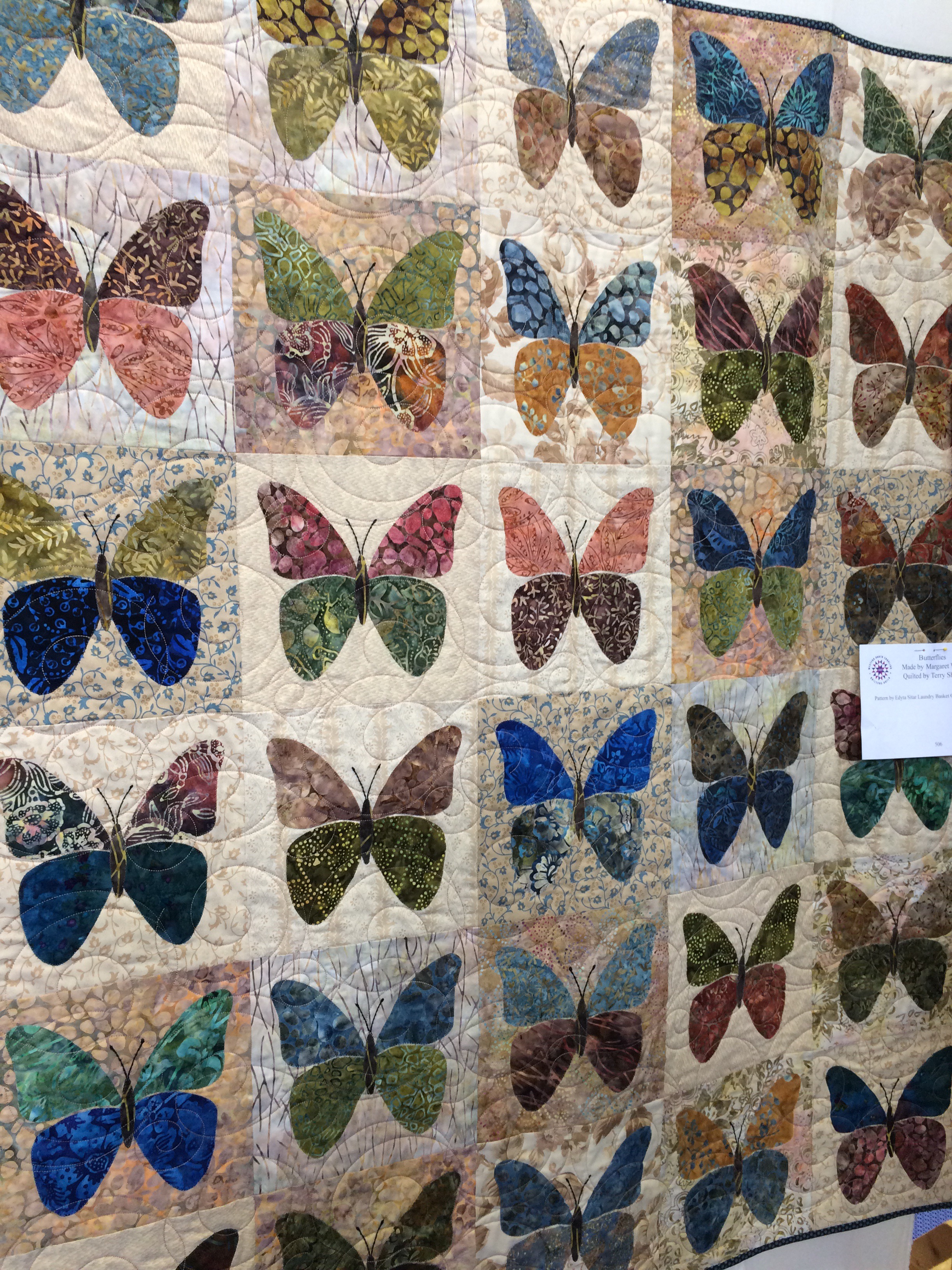 These butterflies are brilliant batiks on beige batik backgrounds. The bodies are batiks, too, but the antennae are hand stitched. this looks like a good project for my ScanNCut. It was made by Margaret Wills and is simply called, "Butterflies."
These last two are very similar, I admit, but I'd like to try my hand at both techniques: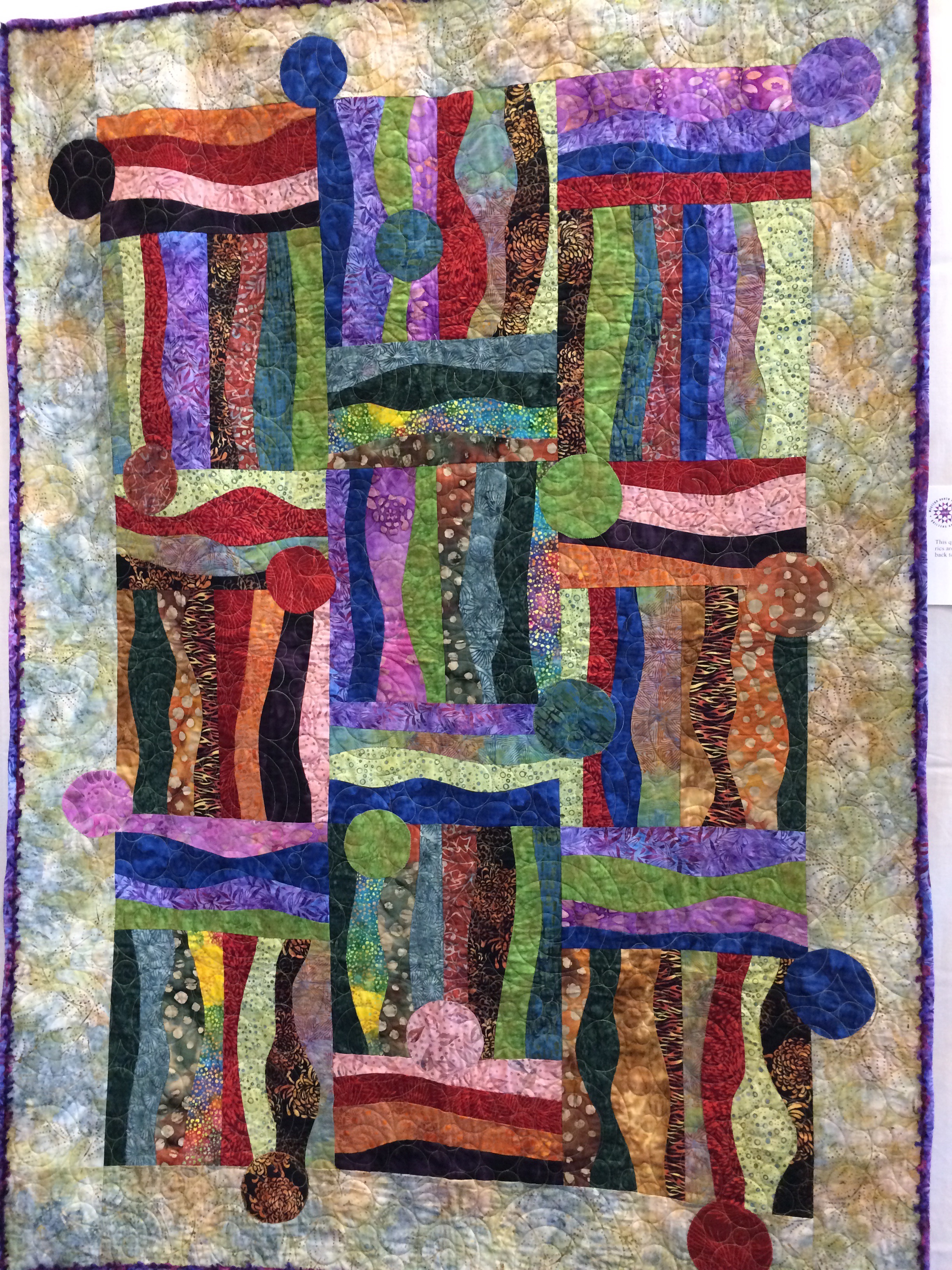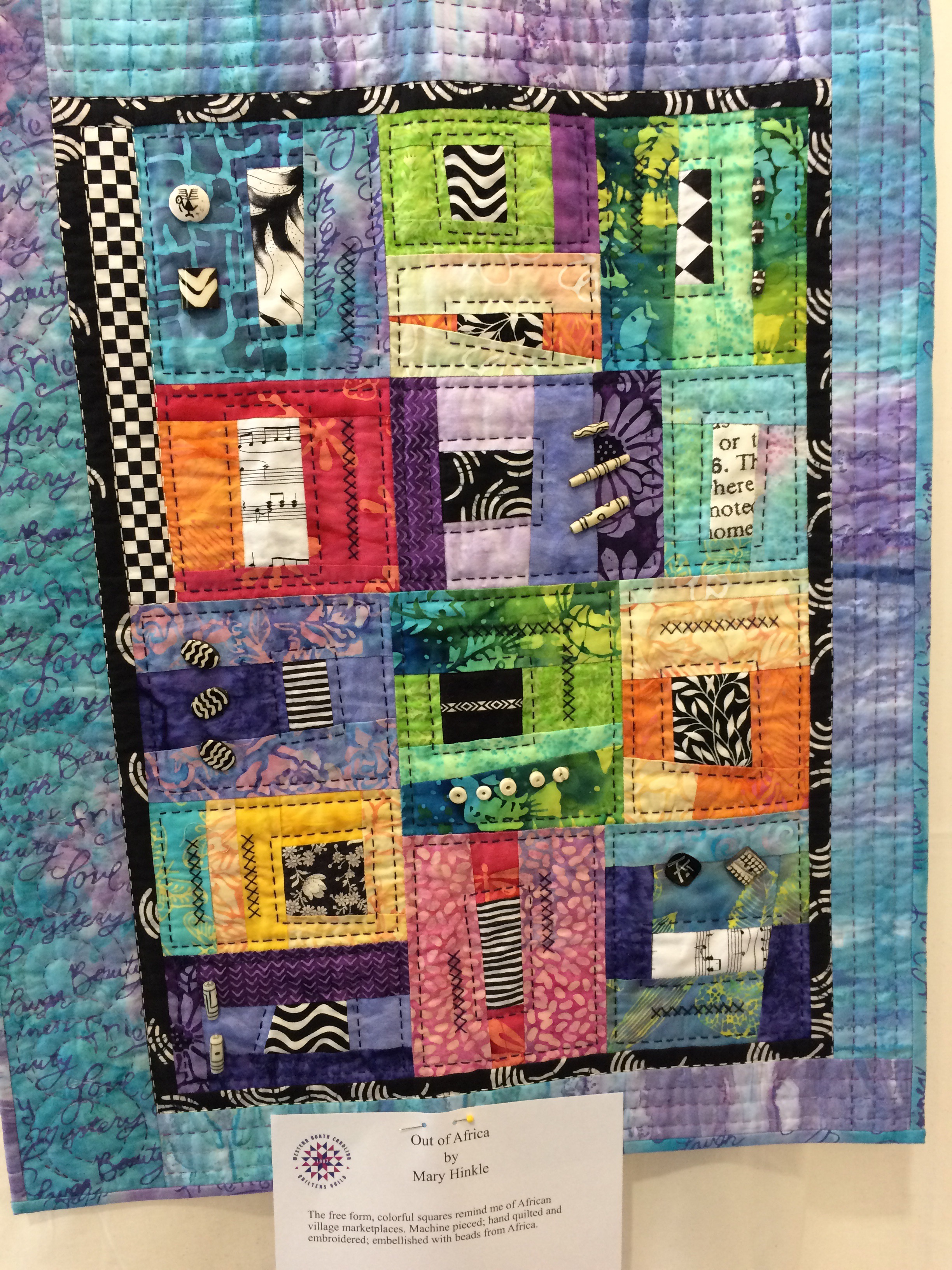 The top one is, "Carnival" by Jane G. Kennedy. It's a stack, whack and swap kind of quilt like I've seen Ricky Tims do. I think the butterflies above it could be done that way, swapping out the bottom wings.The bottom  Quilt, "Out of Africa," by Mary Hinkle, is a favorite because of the colors, the sashiko stitching, and the use of African buttons as embellishments.
Other quilts from this show can be seen at the Western North Carolina Quilters Guild website, as soon as they post their 2017 show gallery.
it was good to see quilting icon, Georgia Bonesteel, working the ticket table for her guild. (I told my son-in-law, it was like going to Comi-con and seeing Stan Lee working the door!)