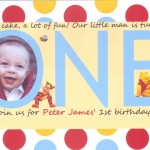 PJ's first birthday party is coming up! 'Wish I could say I designed the invitation, but my daughter did it! She used an online website that I'll have to find out about. I scanned it and opened it in "Paint" so I could cover up the personal information.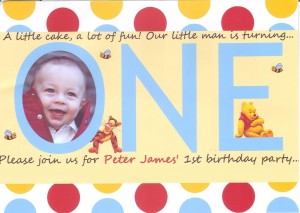 I've got to get his "Pooh" quilt finished!!!!! I'm also considering composing a "PJ Dictionary" so folks attending can understand all his precious first words! "Pooh Buh!" is Pooh Bear by the way!
He loves the Winnie the Pooh theme song and will always stop fussing if you sing it–a very useful tool, indeed!
AND DO NOT LET ME FORGET TO TRACE HIS LITTLE HAND! I'd like to do that every birthday, transfer them to fabric, and make a quilt someday.