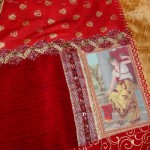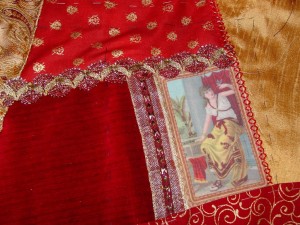 I am having a wonderful Saturday, stitching, watching the Travel Channel, doing some laundry. I am stitching on my red and gold project. I am surrounded by favorite crazy quilting books, but a source I like to check for inspiration and instruction is Sharon Boggon's blog,
Pin Tangle.
Her
"I Dropped the Button Box
" quilt has every type of seam embellishment you can possibly imagine, and that's just one of her resources!
One of the (many) things I like about Sharon is that she uses braids and trim to decorate seams (like I have in this piece.) She also uses embroidery and beads to embellish those braids. Check out her beautiful attachment of gimp:
http://inaminuteago.com/buttonquilt/buttonbox49.html