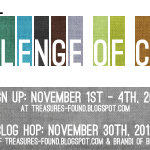 I signed up for TesoriTrovati's (Erin Prais-Hintz) bead challenge at the first of the month, and after being given two palettes to choose from, I decided on the "Meandering Mississippi:"
Here is my creation:
I began by shopping my stash to see what matched:
My daughter had given me this beautiful focal bead to recycle, and I thought it looked "mapish," not to mention being a dead ringer for the palette> I chose antique copper findings because of the rust color in the palette:
I set out to make a Bohemian "chain" for the bead using seed beads and ribbons I had on hand.
But after a lot of work, I met with technical difficulties, and abandoned that idea. Yesterday, after leaving my grandson at nursery school, I made a dash for the nearby Michaels. (We don't have one in my hometown.) There was a copper chain that I had admired previously, and luckily, there were two strands left! I liked the "global" look of the links, and thought it went well with the "Earth as Art" theme.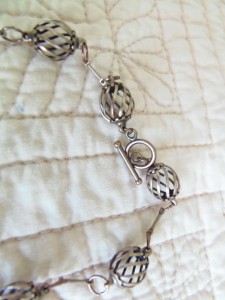 I used copper jump rings and the simplest, round toggle from my stash to complete the chain. After much debate, I hung the focal bead from the center "globe" of the chain. It looked like it would be wonky, but I'm wearing it right now, and it hangs just fine:
I've not given up completely on that other necklace idea, but for now, I'm very pleased with my creation!
I'll wear it to town, later!
Link's to other challenge participants can be found on Erin's blog, if these links don't work: