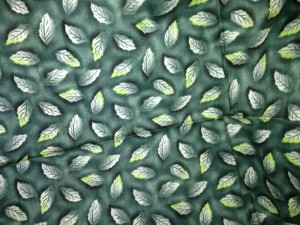 On my way home from babysitting in Charlotte, NC, I stopped by the Charlotte Quilter's Guild Quilt Show. One thing I love about the Charlotte Quilters is they give you a prize, just for coming in the door! (As it should be, right?) A table near the door was laden with goodies like spools of thread, buttons and fat quarters. You choose your own!
I chose this fat quarter (a quarter yard of fabric cut 18″ x 22″ so it's "fat" enough to use in many applications instead of being one long quarter yard strip. (I guess those are called skinny quarters, but I don't really know!)
It's green and has leaves. 'Could be very useful!