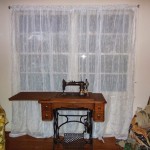 There are hardwood floors in the living and dining rooms, now, and new sheers at the windows. The sheers have machine embroidery that reminds me of free-motion quilting.  I recently discovered that my great-grandmother's sewing machine was much more attractive open than closed, so I'm trying it in front of the living room windows. I'm keeping the two yellow floral chairs because they are comfortable and have nice low arms for knitting.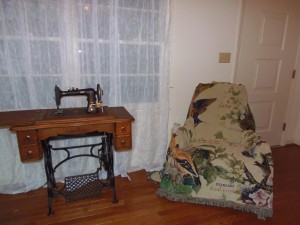 I bought a throw to cover one of the chairs. I thought if I liked it, I'd order another for the other one. I don't much. It's a beautiful throw, but the design is huge and only shows up well on a sofa. My daughter says putting a throw on a chair is an old lady thing to do, but it is Mama's House. I've looked for slipcovers, but haven't found any I think would fit.
On Pinterest, I've pinned all sorts of patchwork covered chairs and instructions for making your own slipcovers. I don't think I have the time or patience to do either. For now, they'll just be loud yellow floral chairs!