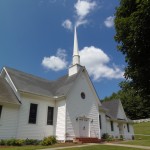 The trees have grown up quite a bit since we bought it, so this is a portion of our view:
I found the lot 5 years before I retired and worked and paid and looked forward to the day we could build on it. I hoped that would be about 5 years after I retired. I'm 6 years out now and family obligations have put the house on the mountainside on hold.
In the meantime, we had a shared driveway put in with our neighbor who owned the lot just above us. He sold his lot to the nicest couple you could ever meet who also wanted to build their dream home for retirement. And They Did! The house is huge and glorious. We paved our shared drive and they put in stone columns, lamps and gorgeous landscaping. Now, maybe it's just the green-eyed devil at work, but I really am happy for them. I think my problem is that anything we could afford to build will look like servant quarters next to that house. Actually, it would sit to the right and slightly underneath that house, which is even worse. Now, instead of coming home from the lot all full of joy and hope, I come home depressed.
I give myself a 'Be grateful for what you have" lecture, but I still have a knot in my stomach.