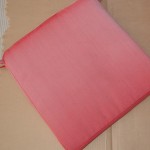 I paid a lot for these terribly faded cushions, so I couldn't bring myself to toss them. I had bought a couple of bandanas to sew together for a cover, but wasn't crazy about that idea.
I sprayed and used a foam brush to even it out.
Not a bad "before and after," huh?
AND!!!, the paint is made in America!!!!