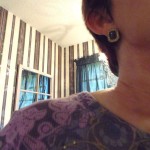 I am NOT giving in to Alfred Dunner! Why doesn't anyone else design for women over 50? I'd like to have a style, but those tiered bohemian skirts I love make me look like a little handbell.
The book, "Wishcraft," says to look at your house and in your closet to discover your personal style. I did, and apparantly my style is handmade, homemade and frumpy. Look at that vest I'm wearing in my profile picture! I'd go as far as to describe it as kitschy.
Why can't I look cool and artsy? Here's something I put on last week in a weak attempt to wear what I want just because I like it. I paired what I think is a slightly funky tee shirt with out-of-style, but beloved, 1928 earrings. Both had dusty purple and bling (but not Quacker Factory bling). I added dark jeans (old mama jeans, but still…) and my cute little Skechers shoes (instead of my orthopedic looking cross-trainers.) I carried a not too grandmotherly purple handbag and wore purple readers when I needed to look at something. It was a small step.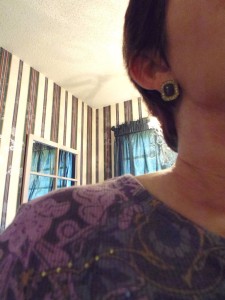 Oh well, "when I am an old lady, I shall wear purple," (but NOT with a red hat!)