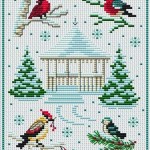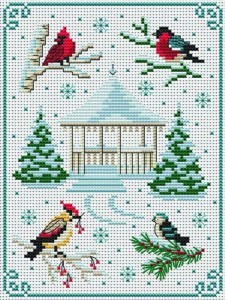 I am about to embarq on a new cross-stitch project from the Cross-Stitcher's Club. I thought this would be beautiful on royal blue Aida cloth, so I stopped by Michael's in Mooresville, NC, on the way home from Charlotte. That particular Michael's has more cross-stitch fabric in stock than any other retail store I currently know of. They didn't have royal blue, but they did have a 15″ x 18″ piece of navy blue on clearance for $2.49!
I divided the stitch count by 14 (14-count Aida cloth) and determined that the finished piece will be 5.2″ x 7″. That ought to do it!
I just checked to see which colors of floss I already have on hand, and there were only three. Since I'm changing the background color, I think I'll change up the floss colors to what I have on hand. To help with that, I looked on line for a chart of
color names
and
color descriptions
for DMC floss. Now, I'm ready to go back through my thread boxes and see what I can find!