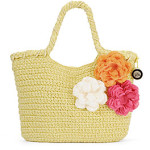 A couple of weeks ago, I spotted this bag for sale in a major department store. It was love at first sight! Sadly, the price tag said $59.95. "I can crochet," I thought, just like I do everytime I spot one of these bags that I love. "Yeah, but when? And what year would I finish it? It's worth the money not to have to fool with it." I can put up a good argument with myself when I want to. Then, upon closer inspection, I saw that the flowers were just pins. "I could make these," I thought. "Better yet, I think I saw gerbera daisies at Michaels with clip-on-backs!" I took a look at the plain bags. 'Not a bad price, but still more than I wanted to spend. The budget is tight these days. I headed home and pulled up eBay…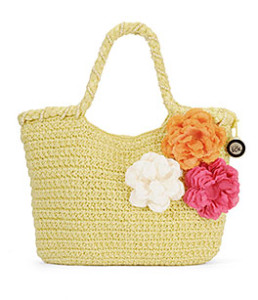 where I found this: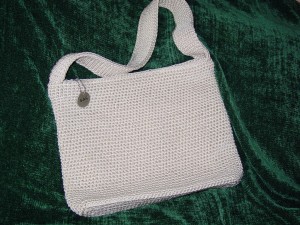 $15.00 with shipping. I placed my bid and won! When it arrived I saw that it was nice and plain on one side, with this zipper pouch on the back: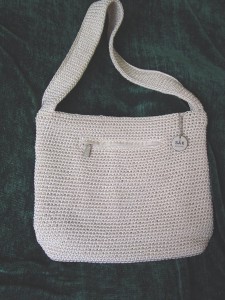 I was also extremely pleased to see that the lining of this bag was much, much sturdier than the thin nylon lining of the new bags!
I attached it to the upper left corner so when I put it on my right shoulder, my arm doesn't obscure the flower:
Am I pleased with the result? You bet!
The total price: $17.16!