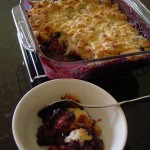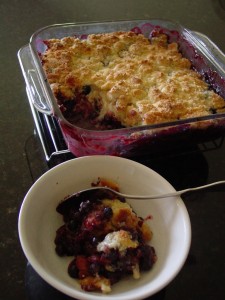 I consider cooking a craft that I enjoy
occasionally
! This is a red, white and blue cobbler that I made for Labor Day! I call it that because I used blueberries
and
strawberries.
The recipe was featured on the cover of Southern Living a summer or so ago. They used blackberries.
It is super easy:
4 cups of fruit
1 cup plain flour
1 cup sugar
1 large egg
6 Tbs. (3/4 stick) butter
Pour fruit into a 8×8 square baking dish. In a separate bowl, combine flour, sugar and the egg. Stir together (I use a large fork) until the mixture resembles coarse meal. Sprinkle on top of fruit.
Melt the butter (I use a pyrex mixing cup, it makes pouring easier–I cover it with wax paper and microwave on high 1 min.) Pour over crust mixture. Bake in a preheated 375F oven for 30 minutes or until brown and crispy. Don't forget to heap on some vanilla ice cream while it's still warm!