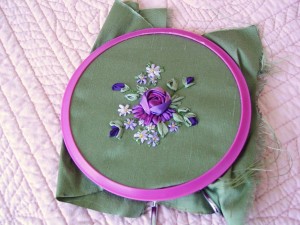 I finished this piece of silk ribbon embroidery by adding tiny seed beads to the centers of the flowers instead of French knots. Here are a few lessons I learned while working on this practice piece:
Nancy Eha's tip about sewing beads straight up and down through the fabric (90 degree angle) is a good one. It makes the beads, "sit on edge."
Sewing through each bead twice for extra security is another of her good tips.
A number 9 "between" needle will fit through the tiny opening in a seed bead.
Long braided collapsible eye beading needles ARE NOT good for sewing beads to fabric. They are good for threading the tiny eye of a tiny #9 between needle.
YLI's gold metallic thread does not shred and unravel like DMC.
I need something more than my finger to hold the "curl" of silk ribbon. I think a pencil or similar sized crochet hook might work well.
I got my pattern from this book, and if I had to give up all my craft books except one, this would be the one I'd keep: