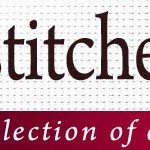 Speaking of medallions, I think bead medallions would make pretty adornaments in crazy quilting. My search for bead weaving led me to this wonderful list at Glitter Glow Beading.
One of the best links on the list was the Interweave store at Interweave Press. They have oodles of reasonably priced downloadable patterns, not only in beading, but in knitting, quilting, fibre arts, you name it! They also carry craft merchandise and instructional DVD's, in addition to books and magazines!
Emma's blog also led me to ArtFire! Thank you, Emma!
I also like to stitch beads to fabric using charted designs and waste canvas. That led me here:

I'll most likely join; I spent hours looking through the downloadable graphs. As a matter-of-fact, I believe I'll take care of that right now! (What else have I got to do besides sweat and shiver?)